HOW HUMMINGBIRDS ARE BANDED
Once a hummingbird is captured, it must be temporarily immobilized so it can be banded and measured. Different hummingbird banders use different techniques for holding the birds; some place them in mesh lingerie bags and gently pull the birds leg through an opening for banding.
At Hilton Pond Center for Piedmont Natural History, hummingbirds are carefully placed headfirst into a small paper tube slightly larger than the bird. While in the tube, the hummingbird can't struggle and hurt itself, and it can be banded and measured.
The bander places a partially opened hummingbird band (which had been formed previously) into special banding pliers and slides it over the leg of the bird. The band is then crimped shut and checked to assure that it is perfectly round and fits well. At Hilton Pond Center, all male Ruby-throated Hummingbirds (Archilochus colubris) are banded on the LEFT leg, females on the RIGHT.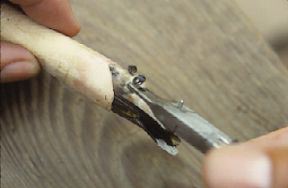 © Bill Hilton Jr.
A female Ruby-throated Hummingbird being
banded on the RIGHT while being held
safely in a paper tube.

Back to Capturing Hummingbirds; forward to Ageing & Sexing Hummingbirds
Up to Top of Page
If you found this information useful or interesting, please
Support
Hilton Pond Center for Piedmont Natural History
&
Operation RubyThroat: The Hummingbird Project
It's painless, and YOU can make a difference!

Just CLICK on a logo below.

Make direct donations on-line through
Network for Good:

LIKE TO SHOP ON-LINE?
Donate a portion of your purchase price from 500+ top on-line stores via iGive:

Use your PayPal account
to make direct donations:
Operation
RubyThroat's
On-Site
Search Engine


Operation RubyThroat is a registered trademark of Bill Hilton Jr. and Hilton Pond Center for Piedmont Natural History in York, South Carolina USA, phone (803) 684-5852. Contents of the overall project and this website--including photos--may NOT be duplicated, modified, or used in any way except with the express written permission of the author. To obtain permission or for further assistance on accessing this website, contact Webmaster.