True albino Ruby-throated Hummingbirds (Archilochus colubris)--with white feathers and pink eyes, bill, and feet--are extremely rare. The albino juvenile female above was banded and released in August 2003 at Chapel Hill NC.
Only slightly more common are "leucistic" birds, which have mostly white feathers but the eyes, bill, and legs are pigmented with black. This young female leucistic RTHU (below) was captured. banded, and color-marked with non-toxic green dye on the throat at Anderson, South Carolina USA in August 1999.
If you encounter a white hummingbird, please document it with a clear photo or video and e-mail it to Hilton Pond Center for Piedmont Natural History via RESEARCH. Be sure to include your name, city/state, date(s) of sighting(s), and any interesting anecdotal info you wish to share.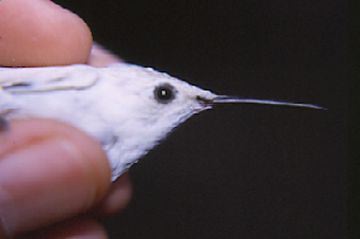 All text & photos © Operation RubyThroat & Hilton Pond Center