HUMMINGBIRDS & CULTURE
NOTE: This section contains information about the role of hummingbirds in historical or modern culture, including religious significance for indigenous peoples. If you would like to contribute material for this section, please contact Webmaster.
Walela is the Cherokee Indian name for hummingbird.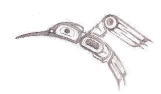 Totem
(above)
of a hummingbird in the style of
Northwest Native American tribes


---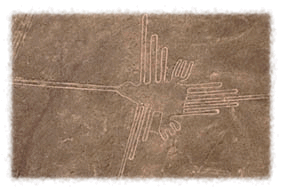 Aerial view (above) of a giant hummingbird etching
in the desert at Nazca, Peru
---
For an overview of the importance of hummingbirds in Native American Cultures, see American Indians & Hummers.
For a selection of Native American tales, myths, and stories, go to Hummingbird Tales Index.
For some renderings of Native American hummingbird artifacts, see Kachinas & Totems.
Up to Top of Page