During the 2000-2001 academic year, several schools, nature centers, and individuals field tested Operation RubyThroat in anticipation of the project expanding to include many more teachers and students in the Carolinas and New York in 2001-2002 (see Project Timeline).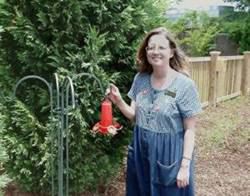 The purpose of the field test was to evaluate the project's basic principles as tools for enhancing student learning in science and other disciplines. Participants have been glowing in their comments about Operation RubyThroat.
One of the first teachers to integrate Operation RubyThroat into classroom instruction was Deidre Cousins (above right), a creative and dedicated third grade teacher at Nursery Road Elementary School in Irmo, South Carolina USA. She reports that Operation RubyThroat "aligns perfectly with state and local curriculum standards." Her two science classes (43 students) began year-long observations of Ruby-throated Hummingbirds in August 2000 and completed field testing in June 2001. Cousins' preliminary report is included below. Sami Sessler, one of Deidre Cousins' third grade students, also submitted an "Operation RubyThroat Project Report, Spring 2001."
---
Preliminary Report from a Teacher Involved in
Field Testing Operation RubyThroat
My students determined that to participate in Operation RubyThroat they needed three things to observe hummingbirds: a hummingbird feeder,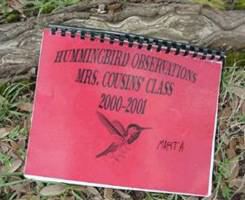 their eyes to observe with, and a Hummingbird Observation Log (right) to record their observations. South Carolina Education Improvement Act (EIA) grant funds were used to purchase an inexpensive hummingbird feeder for each student. Students hung feeders at their homes and were given instructions on how to make hummingbird "nectar" and how often to change the sugar water.
Students conducted several observation activities in the classroom to reinforce the science processing skill of "observation." We discussed how they should observe hummingbirds at home and decided each student would watch his/her hummingbird feeder (and possibly hummingbirds) once weekly for at least 30 minutes. Each student was given a Hummingbird Observation Log in which to write and illustrate what he/she observed (below). Each Monday, students brought their logs to school and shared observations with the entire class.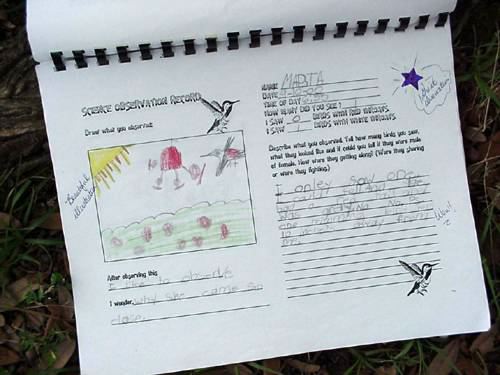 This project already has allowed for natural discovery learning. When students noticed they were observing fewer and fewer hummingbirds each week as autumn progressed, they began to ask why this was happening and to research the topic of migration. Students also were able to utilize math skills by tabulating the number of hummingbirds they observed each week and by using these data to construct a bar graph showing the decrease in hummingbirds as they migrated south. (These kinds of activities are outlined on the Operation RubyThroat Web site.) Students communicated their findings through an Operation RubyThroat bulletin board we started at school (below) and submitted data to the project's main Web site at www.rubythroat.org.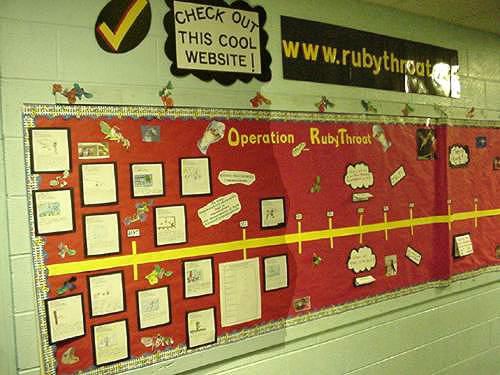 The bulletin board includes a great deal of information that helps students understand many different skills and concepts. Central to the display is a long "interactive" time line that asks when hummingbirds were seen most frequently, where they went when they left in the fall (below right),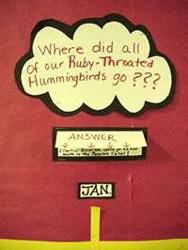 and where they might nest when they returned in spring migration. Bulletin board illustrations came from the students' Hummingbird Observation Logs. The bulletin board points out to the students--as well as visiting parents and administrators--the many skills the children are learning through Operation RubyThroat, including "communication" and "discovery" (below left). There's no question that curiosity about hummingbirds has helped my students improve their math, writing, verbal, and artistic skills, while also helping them make strides in creativity and cognitive thinking.
Students hung their hummingbird feeders again in early May 2001 for the new hummingbird season. In fuure years, we hope to be able to witness firsthand the building of nests and the miracle of baby birds.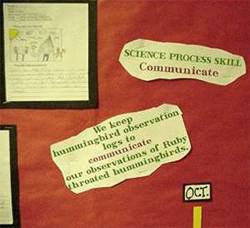 We also hung a hummingbird feeder in the new Carolina Fence Garden and Hummingbird Garden (bottom photo) that has just been installed outside our classrooms. The feeder attracted hummingbirds almost immediately, as did some of the nectar-bearing plants. This garden provides all students at the school with on-going opportunities to join us as we participate in Operation RubyThroat and observe the wonders of our favorite, the Ruby-throated Hummingbird.
Submitted by:
Deidre Cousins
3rd Grade Science Teacher
Nursery Road Elementary School
Columbia, South Carolina
NOTE: Deidre Cousins' six-teacher team continued its involvement in Operation Ruby-throat during the 2001-2002 school year, enabling another 130 students to be part of this exciting project.
---
Ms. Sami Sessler, one of Deidre Cousins' third grade students, also submitted an "Operation RubyThroat Project Report, Spring 2001."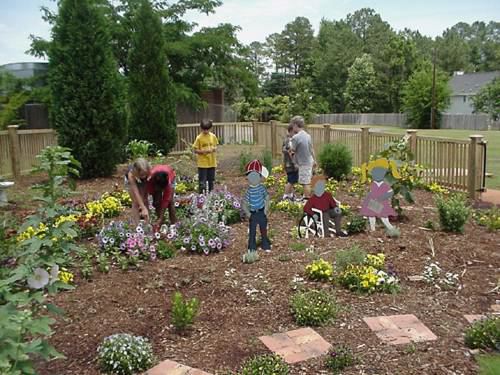 In 2000-2001, students, teachers, and parents established a Carolina Fence Garden and Hummingbird Garden at Nursery Road Elementary School (above). Bill Hilton Jr., executive director of Hilton Pond Center for Piedmont Natural History and Operation RubyThroat: The Hummingbird Project visited the school for an end-of-year session with the students and reviewed the work describe above. Hilton returned in August for a public program of "Hummingbird Mornings," in which he demonstrated capture, banding, and release of hummingbirds coming to feeders and flowers in the school garden.