38 U.S. states in which the Ruby-throated Hummingbird regularly breeds:
Alabama, Arkansas, Connecticut, Delaware, Florida, Georgia, Illinois, Indiana, Iowa, Kentucky, Louisiana, Maine, Maryland, Massachusetts, Michigan, Minnesota, Mississippi, Missouri, New Hampshire, New Jersey, New York, North Carolina, Ohio, Pennsylvania, Rhode Island, South Carolina, Tennessee, Vermont, Virginia, West Virginia, and Wisconsin; eastern portions of Kansas, Nebraska, North Dakota, Oklahoma, South Dakota, and Texas; and a small strip of northern Montana.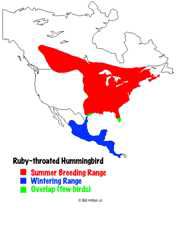 7 Canadian provinces in which the Ruby-throated Hummingbird regularly breeds:
New Brunswick and Nova Scotia; and southernmost Alberta, Manitoba, Ontario, Quebec, and Saskatchewan.
9 countries in which the Ruby-throated Hummingbird regularly spends the winter (October-March):
Belize, Costa Rica, El Salvador, Guatemala, Honduras, central and southern Mexico, Nicaragua, Panama, and the United States (southern Florida and the Texas Gulf Coast, with a few scattered birds in other Atlantic and Gulf Coast states).
NOTE: There have been scattered breeding and/or winter records for Ruby-throated Hummingbirds (Archilochus colubris) outside the areas highlighted on the range map. Any such extralimital sightings should be reported to the appropriate local or state ornithology groups or to Operation RubyThroat in an e-mail to: WEBMASTER.