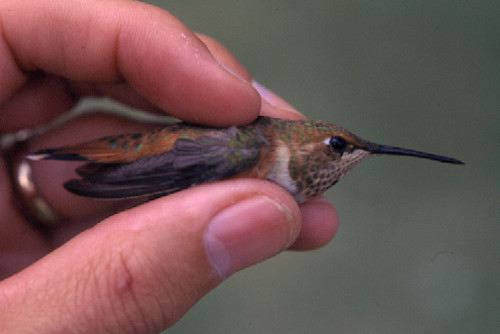 All text & photos © Hilton Pond Center
Immature male Rufous Hummingbird
---
Although Operation RubyThroat and hummingbird research at Hilton Pond Center for Piedmont Natural History focus primarily on local studies of Ruby-throated Hummingbirds
(Archilochus colubris),
occasional hummers of other species afford the opportunity for us to join with other banders in banding and monitoring vagrant hummingbirds in the Carolinas.
For example, Rufous Hummingbirds, Selasphorus rufus, which breed in the western U.S., are being seen with increasing regularity in the East--perhaps because more folks are leaving hummingbird feeders up in winter (immature male rufous at right). The first adult male Rufous Hummingbird recorded in South Carolina during summer was banded by Hilton Pond Center staff in August 1994 in nearby Sharon SC.
As of 18 March 2003, thirteen different hummer species have been reported from the Carolinas, even though the Ruby-throated Hummingbird is the only one that breeds in the East. The following species have been accepted (or or are under consideration) by the state ornithological records committees. (For a bird such as the Buff-bellied Hummingbird, which was banded and absolutely identified, it's just a formality for the SC committee to accept it--unless something really strange should occur, such as someone admitting that the bird escaped from captivity.)
---
Species in red have been banded by staff from Hilton Pond Center
NORTH CAROLINA LIST (11)
Green Violetear
Green-breasted Mango
Broad-billed Hummingbird
Buff-bellied Hummingbird
Ruby-throated Hummingbird
Black-chinned Hummingbird
Anna's Hummingbird
Calliope Hummingbird
Broad-tailed Hummingbird
Rufous Hummingbird
Allen's Hummingbird
SOUTH CAROLINA LIST (9)
Ruby-throated Hummingbird
Black-chinned Hummingbird
Rufous Hummingbird
Calliope Hummingbird
Broad-billed Hummingbird (banded, not official yet)
Blue-throated Hummingbird (provisional list, not official yet)
Broad-tailed Hummingbird (provisional list, not official yet)
Cuban Emerald (hypothetical, not official yet)
Buff-bellied Hummingbird (banded, not official yet)
---
In order to get a better understanding of hummingbird behavior in North America, it is important to report all sightings of vagrant and winter hummingbirds so banders can capture and positively identify as many individuals as possible. Especially in the Carolinas, send sightings of non-rubythroats (or ruby-throats in winter) to RESEARCH.
Information about vagrant or winter hummingbirds--i.e., any hummingbird seen between 15 October and 15 March in the Eastern U.S. or Canada--will be forwarded to a bander in the nationwide network who is close enough to visit the site for possible capture.
You may also wish to directly contact Hummingbird Banders near you.
---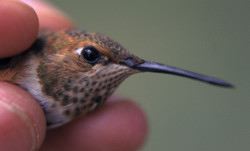 For details about vagrant hummingbirds in the eastern U.S. and our studies of them, visit the Web site for Hilton Pond Center for Piedmont Natural History, specifically Winter Hummingbird Banding.